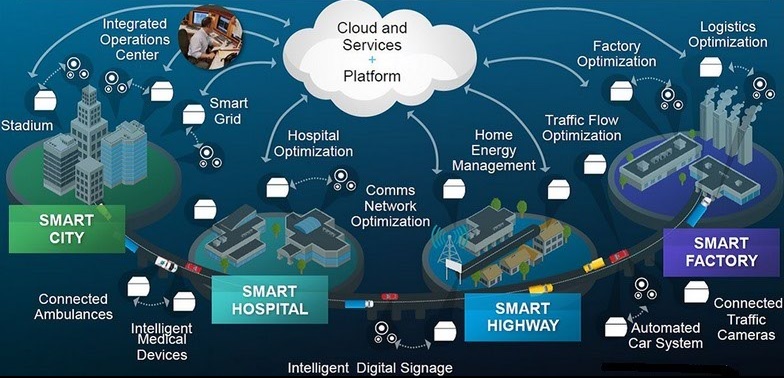 The full impact of major technological shifts play out over years, if not decades.
When the Internet spilled over from its roots in research into the business realm, people were certain – and concerned – that Internet commercialization would inevitably change the nature of the Internet itself.
Years on, people had it all wrong. Commerce did not change the Internet – the Internet in fact, completely upended and changed the world of commerce – and it continues to do so at an accelerating rate – throughout the world.
These same technology forces describe the world of the Internet of Things. This time it is industry and the complex, diverse enterprise of industrialization itself that is undergoing a major technological shift as computer smarts is added, seemingly, to everything, in every industry under the sun.
Engineers can get a detailed glimpse of the future, and the technology forces now unleashed in the Forbes article below: The Internet of Things (IoT) Outlook For 2017, authored by Moor Insights & Strategy analyst Mike Krell.
Among the findings: Smart cities will lead the charge in IoT deployments; smart home technology will become, smarter, more secure and easier to use; IoT semiconductor and sensor volumes will skyrocket; the IoT platform shakeout will begin.
---
Internet Of Things (IoT) Outlook For 2017
IoT semiconductor and sensor volumes will skyrocket. 2016 was the year of consolidation for IoT semiconductor makers. It began with Broadcom BRCM +% and Avago (and then Broadcom jettisoning their IoT business to Cypress) and ended with Qualcomm QCOM +0.03% swallowing up NXP (and the former Freescale in the process). I believe that NXP is one of the best positioned IoT semi vendors, and if a deal with Qualcomm is completed, I believe the combined company has the breadth of technologies and capacity to really dominate the IoT market. ARM cores will continue to dominate IoT, and sensor manufacturers will continue to see their volumes rise. For 2017 I don't think we are done with consolidation. Watch Silicon Labs as a player that grows bigger or gets gobbled next as vendors fill out their IoT focused portfolios.
The IoT platform shakeout will begin. The year started with lots of noise from new vendors with a definite slowing as 2016 came to a close. There are just too many vendors trying to push undifferentiated solutions. Look for fallout in terms of players disappearing or getting swallowed up.
Changes in "edge" or "fog" architectures will become critical to implement—not just talk about. The edge or the fog is that ill-defined part of the network between the devices (where the data originates) and the cloud—and this critical juncture of the IoT system architecture needs an upgrade badly. Traditionally this had been a simple aggregation point or gateway, but that just won't cut it for IoT. The massive amount of data generated by IoT devices will put strains on the network, requiring edge devices to get much smarter. Mainstream vendors such as Cisco Systems CSCO -0.28%, Dell EMC and Hewlett Packard Enterprise HPE -0.04% (HPE) recognize this and are pushing smarter IoT edge devices. These devices are, in simple terms, a combination of a server and gateway. With the increase in computation, storage and networking capabilities we will see edge-based analytics become a critical element to the success of IoT. Watch the Open Fog Consortium as a key player in defining new IoT system architectures.
Telco and communication choices will continue to be messy. 5G is the panacea, supposedly. 5G, however, is many years from being realized in any meaningful way driving telcos to have to deal with new IoT models using alternative technologies today. Telecom operators' strategies and business models for generating revenues from IoT will continue to develop through 2017—and won't be set by this time next year. For telcos, we'll continue to see the battle between NB-IoT and LTE-M play out based on region and monetization models through 2017. Infrastructure providers such as Ericsson and Huawei will continue to increase in importance, providing strong portfolios of IoT hardware and software solutions that everyone needs. Alternative LPWAN technologies will become increasingly strong in niches where the bandwidth, capacity and security of 3GPP standards aren't necessary (or cost affective). These include LoRa, Ingenu and Sigfox.
More: here